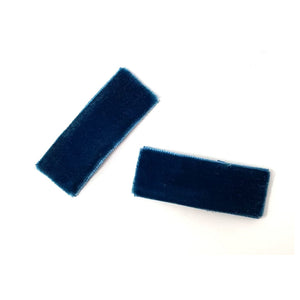 Velvet Snap Clips 
Our snap clips are great for pinning back fringes or clipping under a top knot. They are the perfect accessory for girls of all ages!
They are also very lightweight so especially good if she doesn't like anything in her hair. They can be stacked or used individually
Each clip measures 5 x 2 cm and is covered in a high quality velvet ribbon.
Set of 2
Perfect for School Uniform!
Please note:
Due to the nature of our handmade bows and pattern on the fabric there may be slight variations across each bow.
Our bows may contain small parts that could potentially be dangerous to small children. Adult supervision is required.