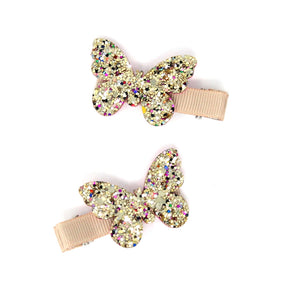 Butterfly Glitter Clips | Gold
Pack of 2
Our bar clips are great for pinning back fringes or clipping under a top knot. They are the perfect on trend accessory!
They can be used individually or stacked.
Each clip measures  5 cm and is on an alligator clip with teeth for added grip.
The size of these clips make them perfect for any age including toddlers.
All pictured clips are included in this set.  
Please note:
Our bows/clips may contain small parts that could potentially be dangerous to small children. Adult supervision is required.
This set is part of our ready to wear range and is not handmade.