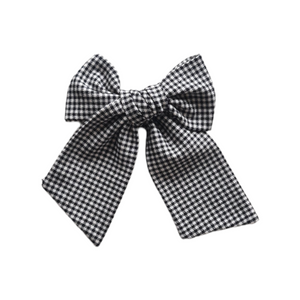 Aria Women's Bow
Similar to the Clara Bow but with shorter tails, perfect for short and long hair alike.
For dressing up or down.
Measures approximately 11cm wide and 11 cm long and comes on a reversible alligator clip with teeth [right side fitting].
 Bow Size:
Approx. 11 x 11 cm
Our bows are completely handmade by our talented seamstresses here in the UK. We offer a 100% quality guarantee on all our bows.
Please note:
Due to the nature of our handmade bows and pattern on the fabric there may be slight variations across each bow.